By Dr. Matthew M. Rosman, GSEM
Information goals for this series:
Defining: Incongruity, Congruity, Learning, Wisdom, Feedback, Habit, Pattern, Skill, Motor Learning, Sensory and Motor Function, and TGM-BIA™ Fusion.
Understanding the brain-body relationship.
Understanding how a "habit" is formed.
Applications to the Authorized Instructor and Golfer.
In Part 4 we looked at a case study which provides a practical perspective application for the reader.
In Part 5 we will further clarify and discuss the elements associated with BIA™ performance. More detailed information about this information can be found in the BIA™ Level One and BIA™ Level Two texts.
In Part IV we presented a case study by which we could establish the unique features of difference between a TGM-BIA™ Fusion Program approach verses a generic golf approach.

To review, the case study included the following information:

A golfer is working with an Authorized Instructor who is also BIA™ trained. The golfer is a novice with limited exposure and would fit into the "high" handicap category in terms of present level of skill. However, this golfer is quite physiologically conditioned and a dedicated sports enthusiast who bikes long distances, plays softball, tennis, and participates in yoga classes three times per week. He works with a personal trainer also three times per week. This golfer has no significant health history and developed an interest in golf to better his business relationship building and networking. This person is a fierce competitor and is confounded and frustrated by the "roadblocks" and "erratic" progress that he has made in becoming "dominant" and "masterful" at golf. He has taken many lessons with multiple instructors which included all the latest forms of "technology information and data gathering", has the latest and greatest equipment which he was professionally fitted for. This person spends many hours searching Internet golf sites and watching various DVDs by "professionals" promoting various types of tips and "secrets". It was through a web search that he found the TGM site and located an Authorized Instructor in his area.
In Part V, we continue the discussion with a further exploration of this case study. The golfer began with a set of assumptions that produced a chain action of responses. Those responses were undertaken with great earnest, energy, and diligence but yielded a "roadblock" and "erratic" progress until as previously discussed the direction of search led to the TGM-BIA™ professional.
What was missing and why did all that effort and energy result in very limited benefits? This leads us to the next area for focus and discussion. There are three key elements or constructs that are part of the BIA™ performance enhancement process. They are:
Inspiration
Perspiration
Education
All three of these constructs must be incorporated into any performance enhancement program.
Inspiration*
is defined as the infusion of the self with enthusiasm, positive emotions, as well as creative thought and/or the urge to spring into action. Inspiration is often associated with the terms motivation or stimulation.
Perspiration*
is defined beyond the physiological function as being associated with the process or actions by which sweat is created or generated. Perspiration is the by-product of action, activity, physical motion, and kinetic energy.
Education*
is defined as the imparting and acquiring of knowledge through teaching and learning which is usually attained in the instructional setting.
Inspiration, perspiration, and education form an interactive triad by which the "fuel" for BIA™ performance enhancement assessment, design, and programming operates: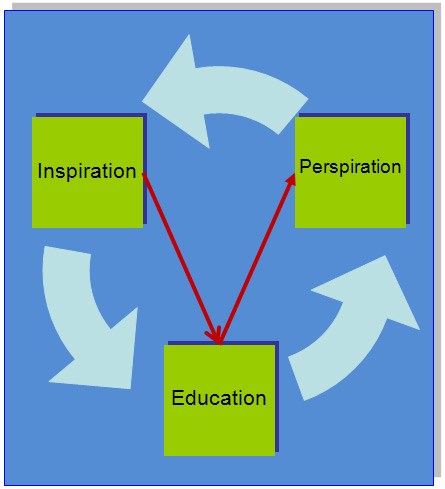 For example, a participant who develops a golf-oriented goal associated with a positive emotional passion to complete that goal has developed inspiration. When that participant physically activates that internal positive emotional passion for a golf goal through a variety of
precise
applications by which "work" is expressed in specificity of the goal (and emotional passion) perspiration results. When that participant recognizes that performance for golf is truly "knowledge driven motion" requiring proper "schooling" with guidance by a quality professional in an instructional relationship education is incorporated.
If all three are not fully operational and functioning in a synergistic manner then performance enhancement for golf cannot occur. In fact, as shall be explained, education is the link which optimizes inspiration and perspiration into a meaningful correlative relationship for BIA™ performance enhancement.
Thus:
Golfers who pound balls at the driving range without a plan of action or professional oversight of their stroke pattern may exhibit both inspiration and perspiration but fail to have activated education and the result will be stagnant as well as inconsistent periods of erratic displays of proficiency.
Golfers who concentrate on physical fitness as a primary pathway to consistency, handicap reduction, and quality "play" on the golf course again may have inspiration and perspiration, but lack the incorporation of education.
Golfers who fail to practice what has been deemed by the instructor as a skill-building key or construct have education, but lack the incorporation of inspiration and perspiration.
Golfers who read and search the Internet for tips and "secrets" but who do not like to practice have inspiration without perspiration and education.
Golfers who try to mimic the actions of pros or "sound swings" that they observe at the driving range or golf course have no inspiration or education and express only perspiration.
There are many, many more examples but the commonality for golfers is to develop authentic, personal, and passion-based desires for golf that can be converted into bullet point achievable goals.

Inspiration cannot be "faked" or imitated and is authentic, deeply personalized, and subject to harnessing the required motivation to act.
Once these seeds have been planted there must be the capacity to convert expressed goals into specified activities and meaningful periods of "work" that are directly the expression of the specified passion based inspirational goals.
Perspiration encompasses work, physical activity, and actionable engagement in specified tasks that are directly related to the inspirational based goals.
The acceptance and recognition that understanding, insight, guidance, and knowledge organize and orchestrate the capacity to develop proficiency in internalizing the technical constructs needed to engineer the biomechanical system's performance competency for golf is the basis by which education functions.
Education is the platform and conduit by which performance is enhanced creating the most meaningful and beneficial connection between inspiration and perspiration.
Thus, in the triad of inspiration, perspiration and education the best linkage of prioritizing these constructs for BIA™ performance enhancement optimization is:

The golfer in the case study has a solid avenue for gaining performance enhancement now that education has been appropriately included in the proper priority order along with inspiration and perspiration. By using a TGM-BIA™ Fusion Program all golfers can incorporate the "fuel" for proficiency enhancement of inspiration, education, and perspiration. The professional will provide knowledge and insight along with the proper methods for practice and skill development that is tailored to the functional capacity of each specific golfer. This is the gateway to success. Without inspiration, education, and perspiration fully functional and operating the golfer in this case study or any golfer seeking "results" will be frustrated and disappointed.
Thus, a key to "knowledge driven movement" and "artistry in motion" involves the "BIA™ Way" of infusing inspiration, education, and perspiration into the total "integrated" approach for optimizing golf performance.
For more information about this subject or any other information presented by biagolf.com, please address inquires to This e-mail address is being protected from spambots. You need JavaScript enabled to view it . Thank you.
*Source (Windows Vista Encarta Dictionary tool for Microsoft Word)