TGM and BIA™ Fusion: How The Golfing Machine and BIA work together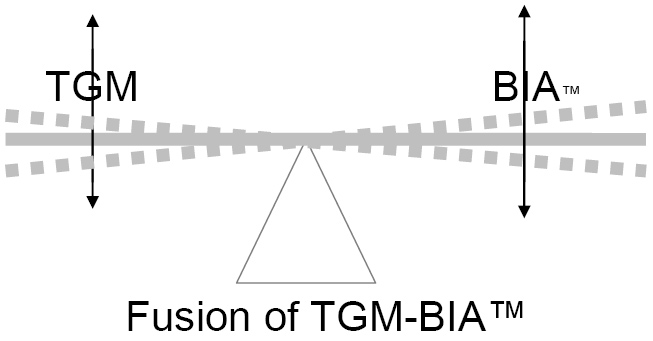 Developing a TGM-BIA™ Fusion Program


How the program is "weighted" determining the specifics of Program Design for each individual golfer.
The see-saw represents session program design emphasis as well as individual "lesson" segments with the golfer. This is a fluid process that "tilts" in one direction or the other as the work with the golfer proceeds.
This means that the see-saw can dip or "weight" itself toward TGM or BIA™. During one single session the see-saw can move and favor a TGM or a BIA™ aspect with separate lesson segments during each golfer session. The ratio of tilt is personalized: 50-50, 60-40, 40-60, 30-70 and so, on.
The see-saw is constantly moving and teetering. Evaluation and objective analysis determine protocols.
The see-saw process always is preceded by the Convergence-Divergence Process™ to determine key session TGM and BIA™ lesson segments (consult the BIA™ L1 text).
The Fusion Process can include synergistic contributions from the Health Care Provider and Fitness Professional but will have baseline goals derived from TGM based G.O.L.F. Principles.
BIA™ utilizes a systematic approach to locate the "hubs" of dysfunction that are the source of the Pattern of execution impairment.
Example:
A new golfer with very little experience begins taking lessons with you. He denies any "significant" history. He appears strong and athletic. Like most new golfers when swinging there is evidence of much effort, "adding", and a focus on hitting the ball. Naturally, there are many errors of execution resulting in mis-hits and a slice pattern to the ball flight.

You start to look more carefully at the golfer; perhaps you utilize the Body Motion System (I-club) or JC Video. Presto! Now the TGM Stroke Pattern is beginning to take shape. Next, you observe the golfer through a BIA "Tent Model™". Swing Mapping™ is incorporated and so on. The BIA™ observations yield that although this golfer denies any specific history of medical or musculoskeletal issues, there are indeed clear evidences of physical fixations (consult BIA™ L1 text), imbalances, and loss of efficient kinematic linkage transference.

The TGM Component malfunctions that this golfer manifests are a mixture of Instructional Concept misinformation, lack of key technique acquisition, and physical fixations along with primary and secondary hubs of dysfunction. Thus, the "see-saw" is put in motion! The Fusion Program specifics commence.